An umbrella is something which gives your area a new look and feel. A umbrella adds desired shade to your patio, deck, pool side, or garden with a beautiful and practical patio or market umbrella. Even on the sunniest day or heated day you can enjoy your outdoor living spaces and stay cooler in the shade of your umbrella. In addition, patio umbrellas is one of the best and widely used to remain outside without absorbing the harmful UV rays of the sun, which cause skin cancers and sunburns.
We the Luxury Blinds Bali offers the best, time-proven Patio & Market Umbrellas at discounted prices for savvy Internet buyers. Our umbrellas were chosen by the customer for their high quality, design, reliability, warranty, and value. We have canvas and Sunbrella umbrellas in addition to side post umbrellas with various types of canopies, and much more.
Types and variety of Outdoor Umbrellas:
Standard Center Pole Umbrellas
Standard pole patio umbrellas feature is basically a long pole holding up the canopy from the center. They are usually placed in a hole in patio table or heavy base. Canopy shapes are in   square, hexagon or octagon are most common. The hexagon/octagon shape are typically known as round. 6ft, 7ft, 7.5ft 9ft and 11ft and the standardized sizes though many manufacturers will entertain making a custom size with a large quantity order.
Cantilevered Umbrellas or
These outdoor umbrellas is normally feature  a pole with the canopy that opens to its side. The canopy closes next to the pole in most cases. These umbrella are usually used in seating areas where there isnt a table to help support it. Some are wall mounted and some comes with a single hooked comes in 8ft, 10ft, 11ft and 13ft squares or hexagon shaped canopies are most common.
Beach Umbrellas
Outdoor Beach umbrellas  is one of the widely used specially in beach to prevent harmful rays of sunlight and also enjoy the sunset.It feature either a wood or aluminum pole with a pointed pole bottom. The pointed end makes it easy to install deep penetrate into the sand. Wooden poles and fiberglass ribs beach umbrellas are usually best suited for the beach.
Umbrella Lifting Methods
Crank to Open and Push up manually and hold in place with a pin are the most common. Push Up is much better in commercial or public places as crank open umbrellas can be cranked too hard and breaks the cable and unable to use when required.
Umbrella Canopy Fabrics
Sunbrella is by far the most chosen fabric. It comes in variety of fabric styles, colors, resists fading, mold and mildew and has a much longer useful life outdoors. Olefin, Outdura, Nylon and others are chosen as a more economical canopy choice, but need to be replaced 2-3x more often over the umbrellas' lifespan.
Umbrella Lights
Many aluminum frame umbrellas have models that come with built in LED Lights on the ribs for enjoy and also for safety. Most of them are low voltage for safety purposes and some are solar powered.
Umbrella Speakers / Sounds
Even this old product ie umbrella has been digitalis by the adding of Bluetooth / WiFi speakers that can pair with your smartphone or other compatible devices.
We provide various types of umbrellas just in LUXURY BALI BLINDS.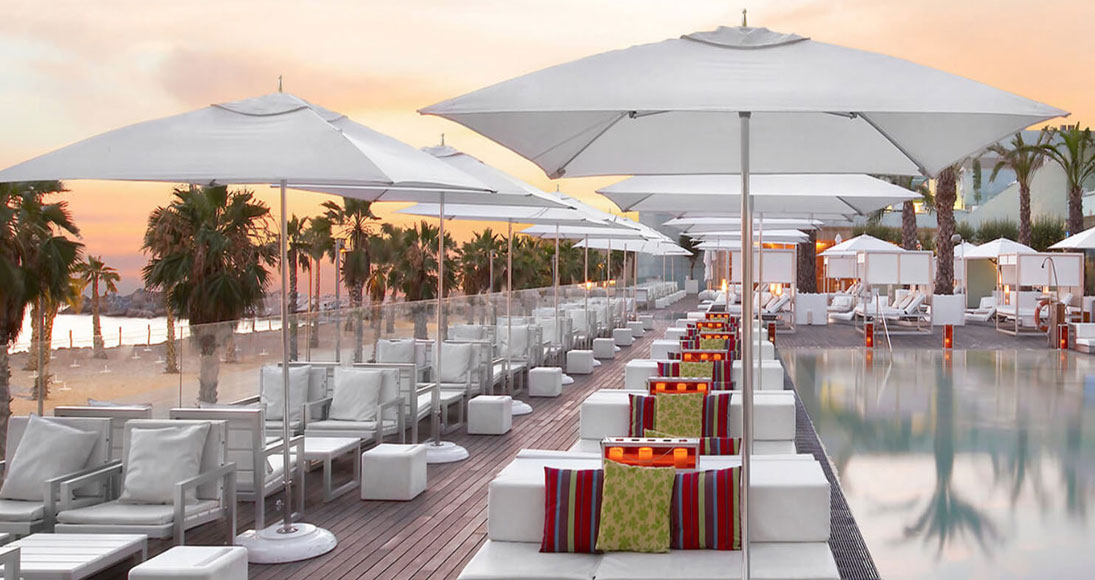 [ ORDER SKYLIGHT BLINDS ]
Get extra discount in online booking.