Outdoor Roller Blinds Jakarta
[Simple and Affordable Outdoor Roller Blinds]
Outdoor Roller Blind is an economical and outdoor sunshade top choice for balconies, yards, patios, restaurants, and cafes when it comes to simple, practical, and affordable outdoor dressing solutions.With a variety of textures and colors of fabric selection, these sunscreens provide excellent sun protection while also adding style and seclusion to your outdoor locations.
Custom made with variety of size:
Similar to an indoor roller blind, an outdoor roller blind runs vertically in front of glass and open ports. Fabric is wrapped around a roller-tube that differs in diameter depending on the blind's width and drop; the wider the width/drop, the larger the roller-tube to prevent over sagging. The fabric is linked to a lead-rail that has an inbuilt weight that keeps the cloth taut and under strain at all times, whether the blind is partially or completely lowered.
To each side, the lead-rail runs within guides, ensuring that it runs smoothly and squarely. Additionally, a clever zip locking mechanism secures the fabric within the side guides, making the blind windproof, preventing light from shining between the edge of the material and the side guides (due to the lack of a gap), and acting as an insect screen when fitted with our premium Twilight pearl material. The side guides, which can be mounted from the front or side depending on the application, are made up of two sections: a back and front component that hides all the fixings.
When the blind is not in use, a cassette casing around the roller-tube hides it neatly, concealing the fabric and reducing maintenance. The front of the head-box is hinged, allowing it to be readily removed for maintenance or repairs. The head-heavy-duty box's lugs slip into the side guides, supporting it without the need for any physical attachment to the facade.
Our outdoor roller blinds are equipped with a tubular motor that is housed within the roller tube and can be controlled with a portable remote control or a wire-free wall switch. Optional sensors produce automatic blinds that adjust their position based on the ambient temperature and light for the best thermal and visual comfort.
It's possible to make it up to 6 meters wide.
Filters light while reducing heat and glare.
There is a blackout option available.
Operation with a motorized remote control a wind-resistant screen
There are hundreds of hardware and screen fabric colors to choose from
Outdoor roller blinds Jakarta are an excellent budget-friendly option for exterior protection. We supply and install robust and durable outdoor blinds at cheap pricing.
Luxury Blinds Bali is the most popular outdoor blinds supplier in Jakarta. Here are some examples of the work we've done for your neighbours. If you haven't done so already and want to learn more about our products and services. Take a look at some of the outdoor blinds we've recently placed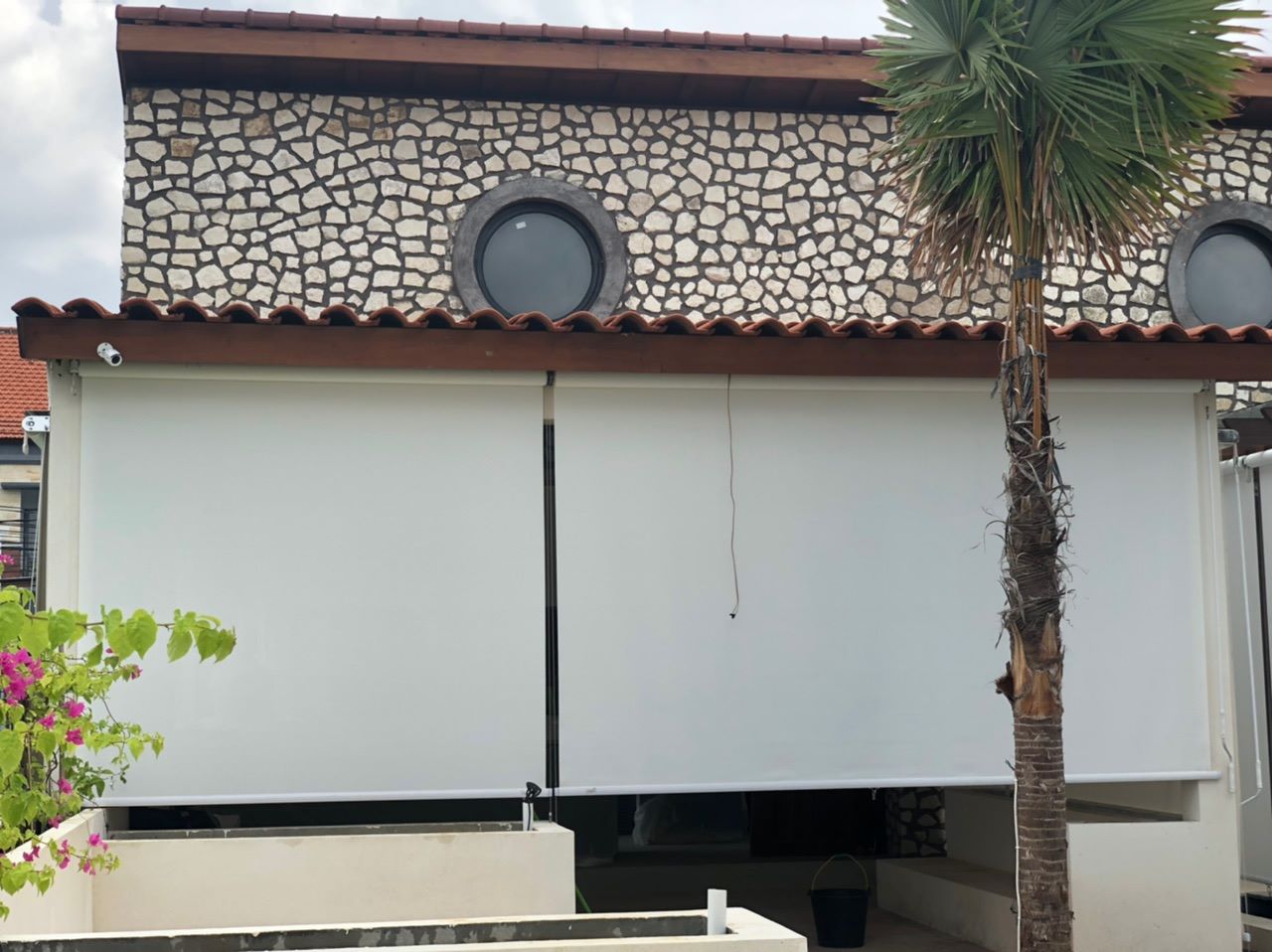 [ ORDER OUTDOOR ROLLER BLINDS JAKARTA]
Get extra discount in online booking.