For the ultimate sun protection and the only solution, try a Sunbrella Shade Sail. Weather its Courtyards, poolside areas, gardens, children's play areas, car spaces, and even office building areas or any thing all benefit from the cool good looks of a Sunbrella Shade Sail.
These sails can easily be mounted to any of surfaces and are easy to install without any problem. Now you can create a shaded area anywhere around your home or backyard to prevent yourself from excess heat, sunlight and dust.You can also match your colors to your outdoor furniture or your house colour so that Sunbrella Shade will compliment.
Sunbrella Shade Sails feature
Sunbrella is basically breathable fabric to keep you cooler and more comfortable in hot weather. The canvas fabric has atleast 10 year warranty and provide you in protection with a UV rays up to 98%. These sails can be mounted to a variety of surfaces and are easy to install. In order to install properly Fly them to create a shaded area anywhere around your home or office. Material is unaffected by moisture and natural temperature and are made to tolerate the extreme. Sunbrella's solution is basically dyed acrylic fabric is completely fade and water resistant. The near waterproof fabric also resists much of stains, mildew and rot. The perimeter of each shade sail contains seatbelt type webbing for increased strength & durability and is designed with a gentle cantenary curve inwards towards the center of the sail to control the fabric tension. Each corner has is properly welded solid marine grade for support.Stainless steel is also attachment ring to aid in attaching to a structurally sound fixing point. Shade sails, when installed properly, will not sag in the wind.
Sunbrella Shade Sails also available in several shapes like squares, rectangles, triangles or custom sized polygons. They can be purchased in your choice of eight great colors and according to the size you want. Typical shade sail instructions for installation can be found below to read and follow the instructions. Sunbrella Shade Sails have to be installed with at least an 20 degree slope to allow water to run off the sail and not pool or stored on top of the sail. So one should fix it properly.Due to the limited available Sunbrella fabric widths, there will be seams approximately every 40-57 inches.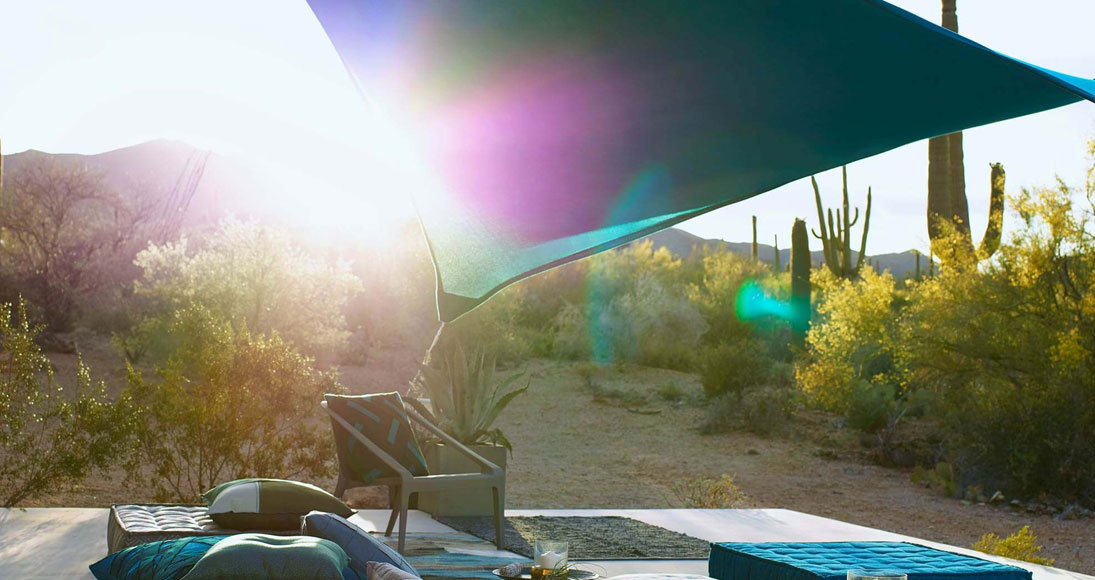 [ Sunbrella Sails ]
Get extra discount in online booking.